Panizzi Library (Palazzo San Giorgio)
Palazzo Giorgio, now the Panizzi Library, was erected in 1638 from a project by Flaminio Ruggeri, who designed the beautiful facade with three orders of windows.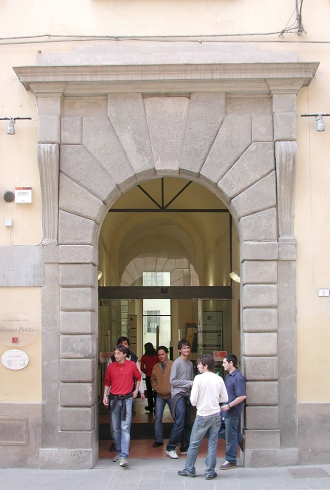 Portal

That same year, the Jesuits founded a College and various types of schools there, which remained active until suppression of the Jesuits in 1773.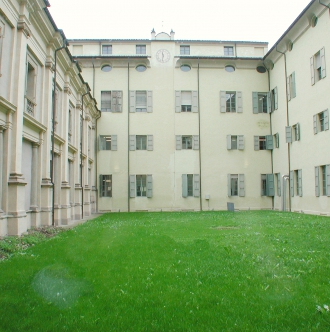 Courtyard

The church was then taken over by the regular Canons of S. Salvatore. Upon suppression of that order, the building was used for public schools, an archive and a library, until its restoration by the Estensi family (1814), which allowed for a return of the Jesuits and the reopening of their schools. However, in 1859, in accordance with political expectations of the new Kingdom of Italy, the building passed into the hands of the City. Now the building hosts the Antonio Panizzi Community and Municipal Libraries.



Frontispiece of the famous "Antiquarium" by Michele Ferrarini (manuscript, XV cent.)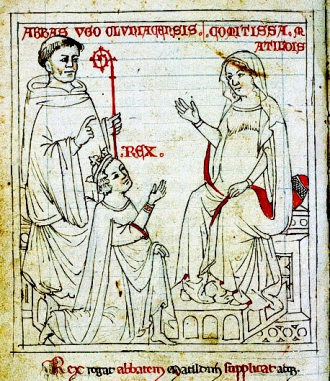 A drawing from the XIV century code "Vita di Matilde" by Donizone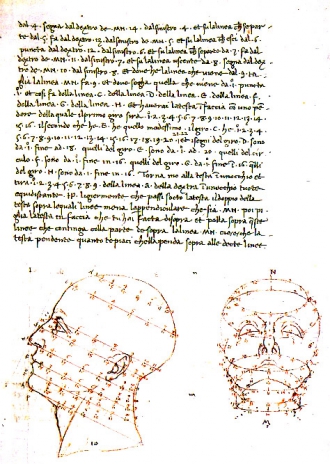 "De prospectiva pingendi" with autograph drawings by Piero della Francesca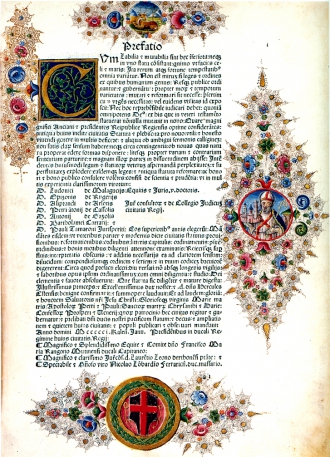 A miniated copy of the "Statuti reggiani" printed in 1501

The former holds over 35,000 volumes, while the latter, founded in 1796, holds over 250,000 volumes. In addition to numerous current publications, the libraries also contain many manuscripts and incunabulum, which came from the Cathedral Capitular Library, as well as an ample collection of ancient prints and engravings, and a photo library (plates, photographs and postcards) containing over 15,000 items. Among the manuscripts is the precious Acta Comitissae Mathildis by Donizone dating back to the 12th century. The collection of incunabulum includes the splendid De prospectiva pingendi with drawings by Piero della Francesca.
The collections also hold manuscripts and original editions of works by Ariosto and Boiardo. The library recently enhanced its collections through acquisition of the Cesare Zavattini collections containing manuscripts and works by the author and screenwriter.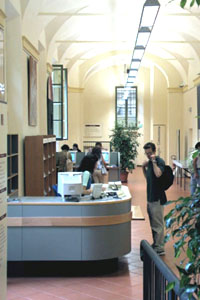 Entrance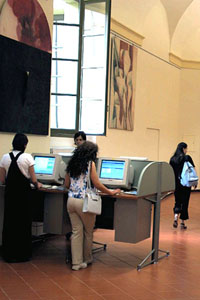 Informative catalogue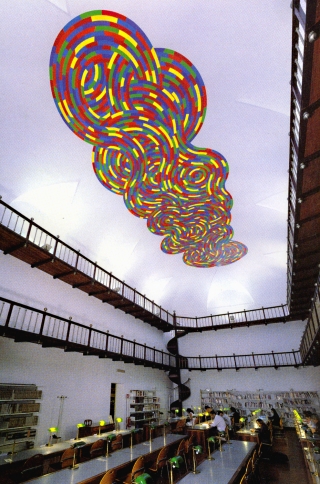 Wall Drawing #1126 Whirls and Twirls 1 (Reggio Emilia,) Biblioteca Panizzi, Reggio Emilia. First Drawn: Francesca Dolci, Chiara Dossetti, Simone Fontanesi, Andrea Gualandri, Pietro Iori, Josè Demetrio Peña Sosa, Debora Romei, Anthony Sansotta, Ciro Scarpetta, Claudia Torricelli, Federico Vecchi, Angelo Volpe. July 2004. Acrilic paint; cm 467 x 1330,25. Musei Civici Collection, Reggio Emilia


Whirls and Twirls 1 by Sol LeWitt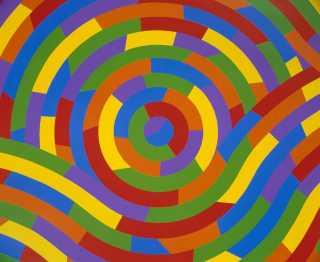 Whirls and Twirls 1, detail

The work Whirls and Twirls 1, designed by Sol LeWitt for the ceiling vault of the eighteenth-century Reading Room of the Panizzi Library of Reggio Emilia forms part of the extensive series of Wall Drawings painted directly on wall surfaces in an attempt to achieve complete integration between art and architecture.
Primary and complementary colours flow in a labyrinthine interweaving of vortexes, constantly moving within one's gaze and producing what Brunò Corà described as 'one of the greatest and most wonderful contemporary art decorations executed on the vault ceilings of historical buildings in Europe'.




Sol LeWitt, Whirls and Twirls 1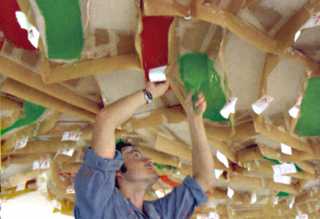 Whirls and Twirls 1, the making of
---