Architect Santiago Calatrava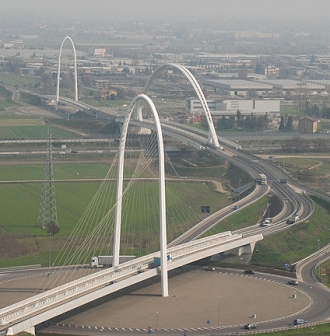 Aerial view of the whole

Santiago Calatrava's bridges are the new gateways of our town: architectures to be observed in motion that can knock down frontiers.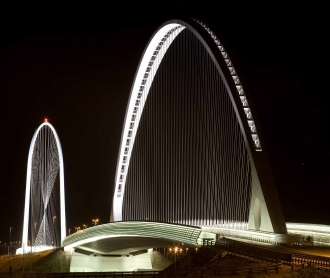 Central bridge at night

All three bridges are built of white-painted steel and reinforced concrete. ''The most elemental function of a bridge is to connect things,'' stated Santiago Calatrava, ''and the larger goal of this project is to better connect Reggio Emilia to the rest of the world, both physically and symbolically.

These three bridges make access to the city simple and quick, and they mark the gateway to the city from a distance and from close at hand.''


The central bridge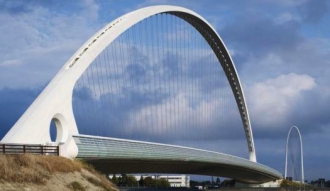 Central bridge

The central bridge has a single symmetrical arch, placed longitudinally relative to the bridge span, which rises to a height of 46m (151 feet) and spans a total of 221m (725 feet) over the highway and rail line.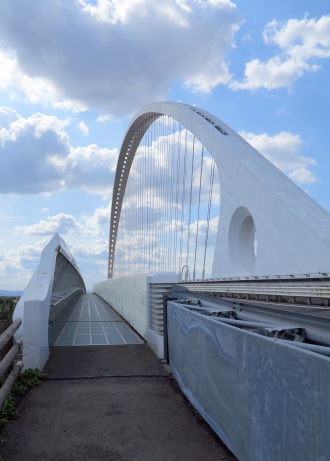 Central bridge

Suspended from the arch by radially placed cables is a steel box-girder, from which cantilever beams project 9.75m (32 feet) at intervals of 3.5m (11.5 feet).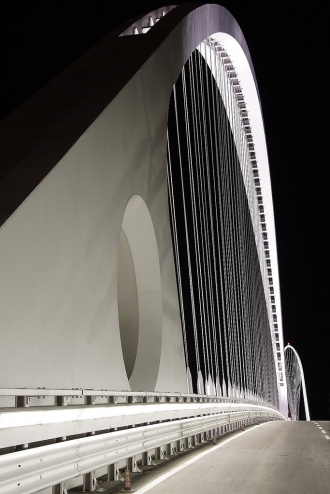 Central bridge at night

The box-girder supports the roadway, which is 25.6 meters wide (84 feet) and accommodates four lanes of automobile traffic and two lanes (one in either direction) for bicycles and pedestrians.



South and north bridges
Immediately to the south and north are the bridges over the roundabouts and highway access roads.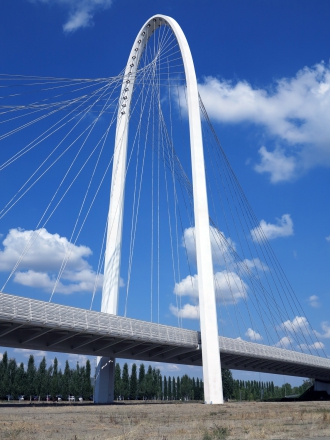 South bridge

Each of these is distinguished by its arch, which is set at right angles to the direction of traffic and rises to a height of 68.8m (225 feet).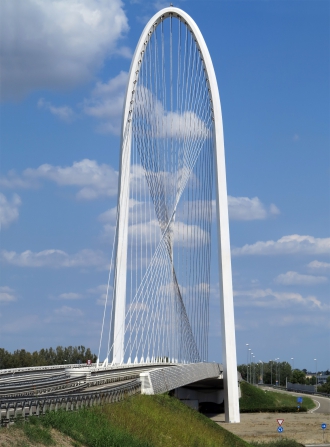 Bridge north

These two very high arches can be seen for miles across the flat countryside (called the Padana), creating the appearance of towering gates marking the entrance to the city.
Each of these bridges is 179 meters long (587 feet) and 13.6 meters wide (45 feet) and provides for one lane of traffic in each direction. Twenty-six cable stays, strikingly arranged in the shape of a hyperbola, support the roadbed.

Source: Santiago Calatrava
---