Church of Saint Stephen
This is one of the oldest churches founded in Reggio. Mentioned in the 11th century as the church of the Templars, located to the south of via Emilia, it was instead situated on the outskirts of the city during medieval times, and inside the walls during the renaissance.



View of the external porticos

From 1161, a hospital, also belonging to the Templar Knights, was annexed to the church. Upon suppression of the Order in 1312, St. Stephen's was taken over by the Knights of Malta until 1796. Initially the Knights entrusted control of the church to secular clergymen, and then, at the end of the 17th century, to the Minims of St. Francis of Paola. From 1794 to 1798, the Carmelites had control of the church, restoring it in part: the apse was rebuilt on a polygonal floor-plan with numerous windows. In 1953, during a restoration of the church, the antique columns, previously covered by pillars, were brought to light.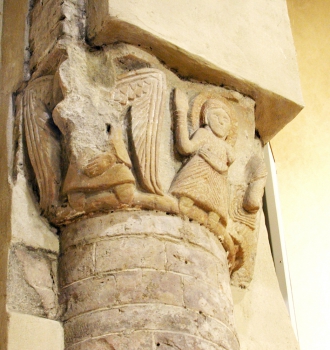 Master Jesus and angel, early 12th century

The church bears rich witness to various eras. It is surrounded on three sides by a rounded portico from the 1400s, while the medieval fa¸ade is in part covered by most recent buildings.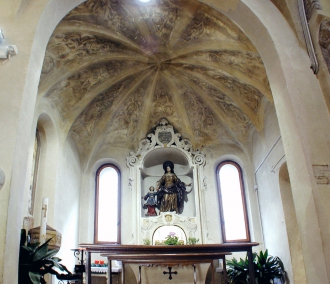 Traces of frescos from the 15th-16th centuries

The constructions in back, annexed to the church, make it difficult to have a clear idea of the church's original structure. For example, the three beautiful single-light window on the sides, as well as a series of small arches (early 12th century), belonging to the ancient church, can only be seen from the attic of the rectory.
Noteworthy inside the church: the last surviving capital from the medieval church, with bas reliefs depicting Jesus and an Angel, on the column between the third chapel and the choir; the beautiful 16th century frescos in the right bay; the marvelous wooden choir, the picture of Alessandro Tiarini "Madonna that give the Child to Saint Felice fron Cantalice" (seventeen century). The altar frontals are of remarkable interest .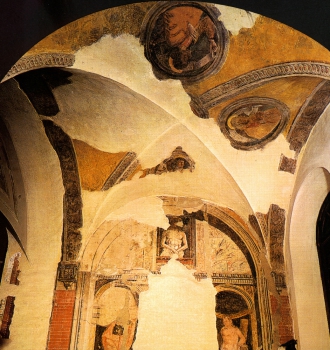 Unknown Reggian artist, St. Stephen between two martyrs, 17th century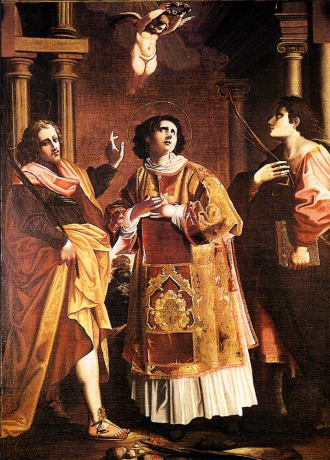 Chapel of St. Stephen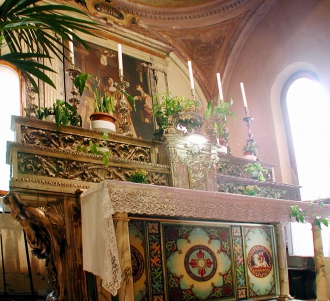 Altar in carved wood with silver leaf, Reggian craftsman, first half of the 18th century
---