Parmeggiani Gallery museum
The building, built specifically to host the museum, was designed by Engineer Asciano Ferrari. The building is an unusual example of eclectic architecture in composite French and Spanish forms ranging between gothic and renaissance (the original Moorish portal comes from the Morel building in Valencia).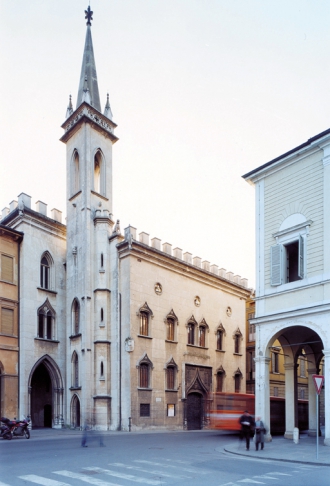 The eclectic style of the Parmeggiani Gallery. Work of engineer Ascanio Ferrari, early 20th century

The collection was gathered between the late 1800s and the early 1900s by Asturian painter and Maecenas Ignacio Leòn y Escosura, relative and business partner of Louis Marcy, who was a well-known and skilled maker of objects in medieval and renaissance styles.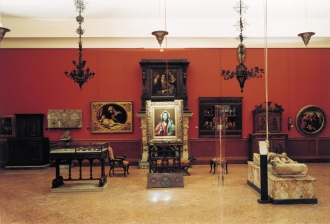 Central Hall

The collection came into the possession of Luigi Parmeggiani, who added the legacy of his father-in-law, painter Cesare Detti. In 1924, Parmeggiani (expatriated from Italy for political reasons in 1889) transferred the collection to Italy and decided to have this building constructed to host it. Both the building and the collection were donated to the City in 1932. The collection includes the imitations from Marcy's Paris studio, but it counts numerous original works as well.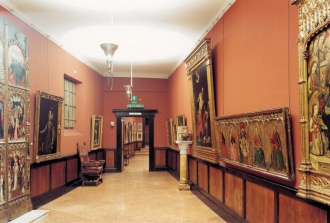 Spagnola Hall

However, in light of the large number of copies and imitations, it is difficult to find within the composite whole, the line between original works and imitations, between reality and fiction. Nonetheless, Parmeggiani's collection is striking for its size and for the heterogeneous nature of the works, some of which are of remarkable artistic and historic prestige. For example, inside the atrium there are some beautiful original capitals from French and Emilian medieval sacred buildings, together with some outrageous fakes (such as the fake Pompeiian frescos).
In the central hall, the heart of the entire building, there is a fine Flemish triptych attributed to Van Eyck, a Christ Benedictor by Greco, and Madonna Adoring the Child by Sassoferrato.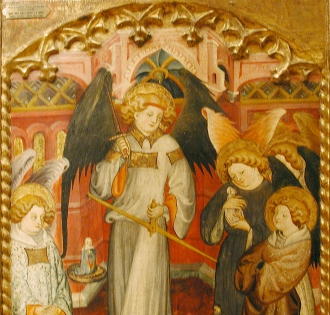 Spanish Polyptych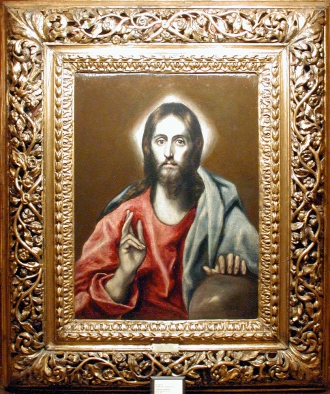 Domenico Theotocopulos known as El Greco, The Redeemer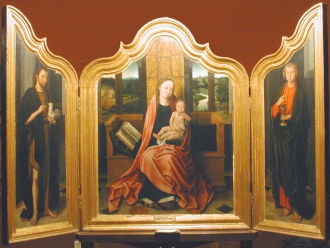 Triptych by unknown Flemish artist

Other paintings have uncertain origins and have been attributed to disparate artists, but nonetheless generally seem to be originals. The antique furniture and the collection of majolica are also quite valuable.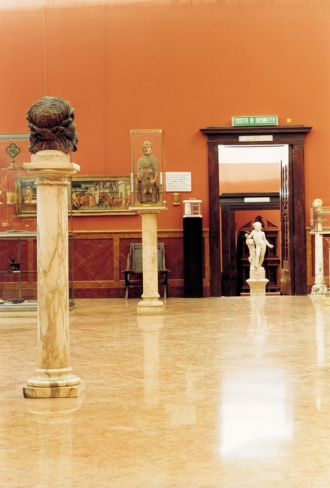 Central Hall

The other halls are organized according to the type of object exhibited.
The Hall of Jewels contains a series of antique enamels by Limoges, while a lovely collection of family portraits is located in the Detti Hall. The Escosura Hall contains paintings with historical subjects by Escosura. The Spanish Hall is home to one of the most complete collections of Iberian art in all of Emilia: in addition to the objects and furnishings, a later work by Jusepe de Ribeira, Portrait of a Mathematician is also worth seeing. A series of 17th century canvases and a Friar in Meditation by Quentin Matsys can be viewed in the Flemish Hall. Finally, clothing and accessories from the 18th and 19th centuries are located in the Costume Hall and the Velvet Hall.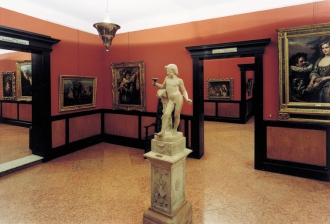 Detti Hall
---