Basilica of the blessed Virgin of Ghiara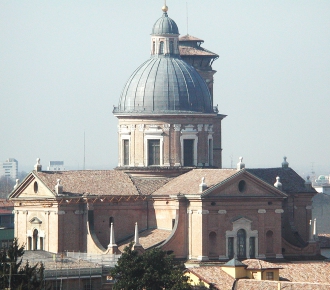 View of the dome

From an artistic point of view, this is perhaps the most important monument in the city. Construction of the Basilica stems from a miracle which occurred on 29 April 1596, in which Marchino, a young boy deaf-mute from birth, miraculously gained both voice and hearing while praying before a portrait of the Madonna by Bertone.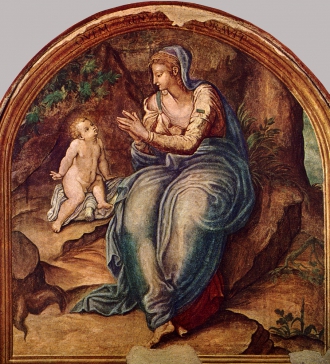 G. Bianchi known as Bertone, Blessed Virgin of Ghiara, 1569

A commemorative plaque in marble is now located there, to the left of the temple. The term ghiara comes from the fact that the Cròstolo stream, with large gravel deposits (ndt. ghiara is the old Italian spelling of gravel), used to run where the church is built. Ferrarese architect Alessandro Balbi designed the church, while Pacchioni, a Reggian architect, was responsible for its realization, which began in 1597.
The church is preceded by a large parvis.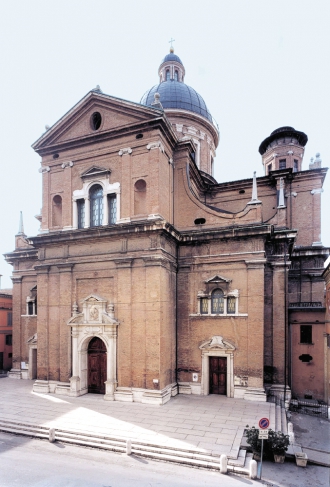 Facade

The terra cotta facade, featuring decorations in marble, was designed with two orders. It is graced with pilasters and Serliana windows, and crowned with acroterions. The body of the church is topped with a slender dome and an unfinished bell tower. The entire work has a Renaissance feel to it, with a Michelangelo-like style. Three portals lead to a Greek cross interior.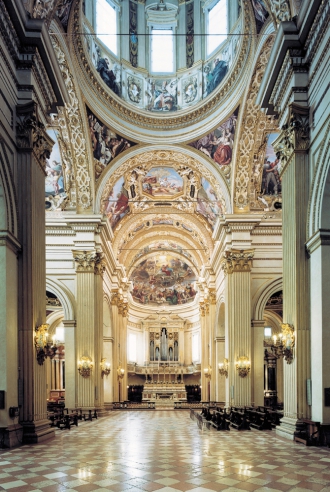 Main nave

The inside of the church bears sumptuous baroque decoration in gilded stucco. The Basilica is particularly known for its extraordinary cycle of fresco paintings and altarpieces by the some of the best Emilian artists from the 1600s: Ludovico Carracci, Gianfrancesco Barbieri (know as il Guercino), Lionello Spada, Alessandro Tiarini, Carlo Bonomi and Luca Ferrari. The frescos follow a very precise theological plan which exalts the virtues of the Virgin Mary as well as subjects from the Old Testament.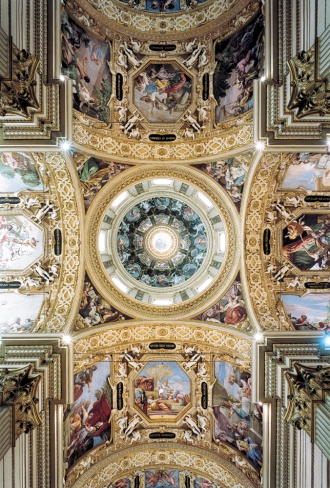 Vault with fresco decorations attributed to Lionello Spada and Tommaso Sandrini, 1614-16

Noteworthy among the many works are: Coronation of the Virgin in the choir, and The Expulsion of Lucifer by Tiarini; in the south wing Scenes from the Life of Moses by Luca Ferrari; in the Gabbi chapel The Church Doctors by Carlo Bonomi; in the concha S. George and S. Catherine by Ludovico Carracci. Finally, for the city altar, the municipal government commissioned a work from Guercino which is now considered a masterpiece: The Crucifixion of Christ with the Madonna, and Saints Mary Magdalene, John and Prosper.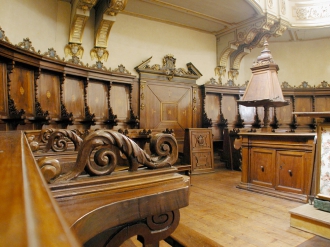 Wooden choir by Angelo and Nicola Talami, 1638-40

Art guilds contributed to the church with precious donations, such as the holy water font from the wool guild and the art of silk guild. Also noteworthy are: the hall of the sacred vestments and fabrics from the sixteenth to the nineteenth centuries, and the Ghiara treasure comprised of reliquaries, monstrances, chalices, and votive offerings of great prestige.


Museum of the Blessed Virgin of Ghiara Sanctuary

Founded in 1982, the museum is located on the ground floor of the cloister, within the Basilica of the Blessed Virgin of Ghiara. The sumptuous "Treasure of Ghiara" is held in the museum's three rooms (sacred silverware, votive offerings, testimonials from guilds, associations and religious organizations). Among the many precious objects exhibited in the museum is the original drawing by Lelio Orsi which inspired the fresco by Bertone and a crown donated to the Madonna by the Reggian City Council. The remarkable painting The Salvation of Laura of Correggio by Luce Ferrari is located in the hall of the Treasure.


Guercino, La Crucifissione (The Crucifixion), 1624-25. Basilica della Ghiara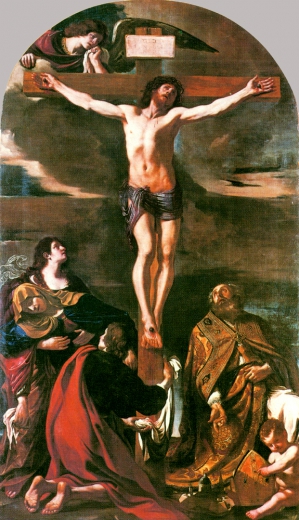 Guercino, The Crucifixion, 1624-25

The great altarpiece depicting Christ dying on the Cross, consoled by the Angel with the Grieving Madonna and Saints Mary Magdalene, Prosper and John the Evangelist at the foot of the cross, was executed between 1624 and 1625 by Giovanni Francesco Barbieri, known as Guercino (1591-1666).
It is located in the altar of the city chapel, which was built at the expense of the City of Reggio, whose coat of arms can be seen at the height of the retable. On the sides of the great painting, within the retable are two monochrome paintings depicting the Resurrection and the Ascension, attributed by some to Giovanni

---