Piazza Battisti (Piazza del Monte)
Some of the most attractive buildings in the city overlook this ancient, characteristic piazza, including Palazzo del Capitano del Popolo (Palace of the People's Captain), one of the city's medieval fortifications. Topped with Ghibelline battlements, the building was erected in 1280 and was home to the Captain of the People who was in command of the military.



Facade

The ancient frescos, retouched over the years, which carry the coats of arms of the captains can still be seen on the façade facing Via Emilia St. Peter. The lunettes of the mullioned, two-lighted windows carry representations of ploughing and harvesting seasons. The magnificent hall inside, known as the "Sala dei Difensori" or "Hall of the Defenders" was used for the city council meetings. The hall is now part of the oldest hotel in the city, Albergo Posta.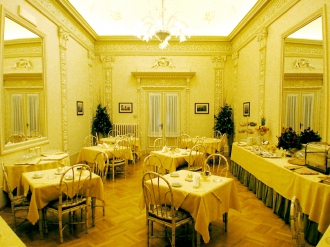 Breakfast room

In the 1500s, an inn called Il Cappello Rosso (The Red Hat) was located there.
Another historic building rises up on the south side of the piazza, the palazzo del "Monte di Pietà" (Pawnshop Building) which constitutes the city's topographical center of gravity.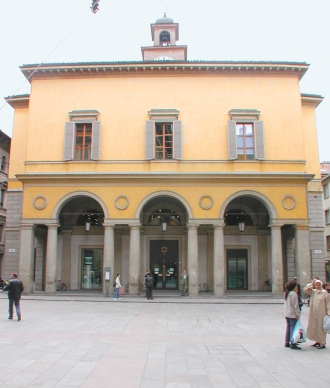 Facade of the Monte di Pietà building

Formerly home to the ancient City Hall, the building was constructed in 1188. It housed the Podesta until 1414, and was joined to the nearby Palace of the People's Captain by a covered bridge in 1280. From 1494 on, it became progressively more occupied by the Pawnshop. During the 1500s, the building also housed the "Sala del Ballone", which was the most important public hall used for theater and performances in general. In 1775, the building underwent radical renovation based on designs by Giuseppe Baarlam Vergnani. Finally, the fa?ade overlooking Piazza Grande was redone in 1915 by Remo Guardasoni from a design by Guglielmo Boni. Over the years the building has undergone a series of renovations, the last of which dates back to 1929. The building now houses the Savings Bank.
The 13th century Clock Tower also soars above the piazza. At a height of 47 m, the tower can be seen from the neighboring Piazza Prampolini as well.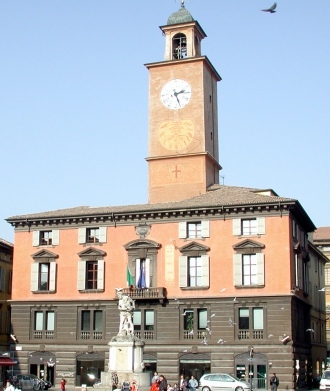 Palazzo del Monte di Pietà, built around 1188, seat of City Hall until the beginning of the 15th century

The elegant, slim appearance of the tower is work of Gianpaolo Raineri who, together with his son, built the clock in Venice's piazza S. Marco several years later. In 1504, the two Raineris built a new clock for the Reggio tower with the figures of the Wise Men, now on display at the Civic Museums.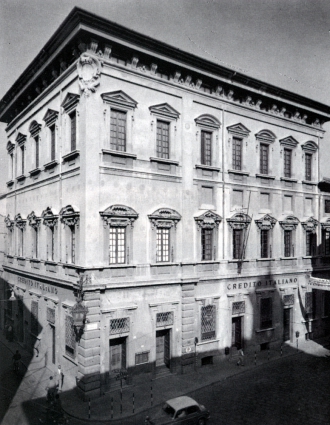 On the north side of the square Battisti you can see Palazzo Bussetti (1657), attribuited to Bartolomeo Avanzini
---