Palazzo del Capitano del Popolo
With its characteristic Ghibelline battlements, the palazzo del Capitano del Popolo (People's Captain Building) is one of the most well known monuments in Reggio, also due to its longtime involvement in the historical, artistic and political events of the city.



Facade

Built in 1280 as the seat of the People's Captain (a government function which supported the Podesta), and renovated in 1432, the building was also used by the Estensi family during their lordship. In 1515 the building became home to the Ospizio del Cappello Rosso or Red Hat Inn, which also occupied the building next door. In 1913 the Inn was modernized and became the Posta Hotel.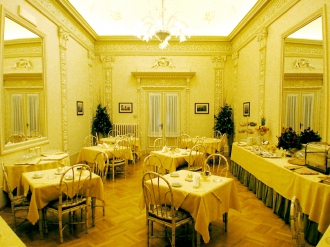 Breakfast room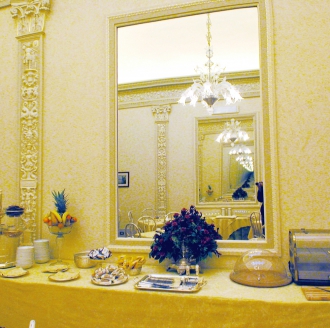 Breakfast room

In 1920, while redoing the façade, important remains of the building's medieval origins were found, and based on those elements, reconstruction of the original style was undertaken, to be completed in 1929.
The sides of the building overlooking via Emilia and the piazza carry medieval coats of arms of the Captain and of the City, which were unfortunately subject to heavy-handed restoration in the early 1900s. Restoration of the immense hall inside (Sala dei Difensori), in which city council meetings were held for decades, included a redoing of the exposed-truss ceiling and recovery of the surviving decorations (some of which were already compromised by prior heavy-handed restorations) depicting heraldic escutcheons and heads of Saints (14th century). Also noteworthy is the Madonna in throne located on the south wall, by an unknown painter from the 1500.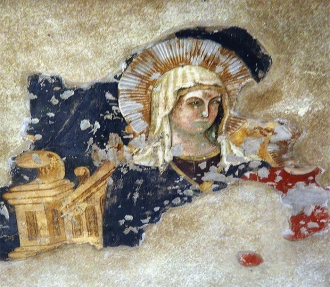 Madonna in trono, fresco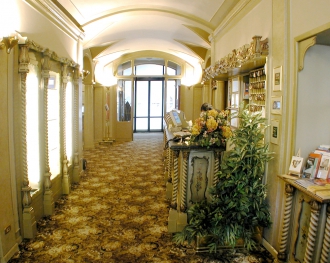 Reception
---