Palazzo Becchi Magnani
With its lovely Neoclassical façade, Palazzo Becchi-Magnani is located on Corso Garibaldi where the Crostolo stream once ran: close inspection of the eastern side of the building reveals that it was made with stones from the stream, whose course was later deviated outside the city.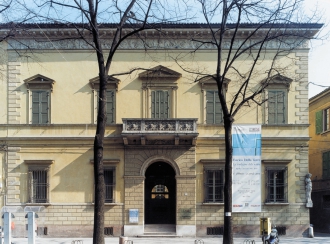 Facade from 1841
The date of erection of the building is uncertain. The first certain information dates back to 1608, while the two-faced Janus in marble (attributed to Clemente), located on the corner of Via Vicedomini, bears the date 1576.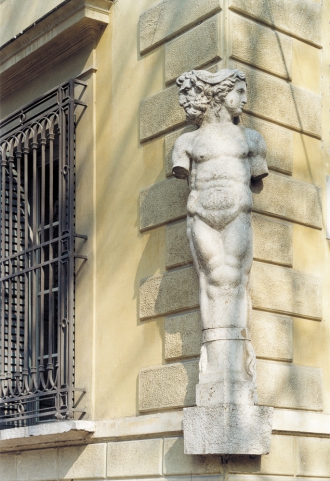 Two-faced Janus, 1576, attributed to Prospero Sogari, known as Clemente

For a century, the building belonged to the Count Becchi family, only to pass into the hands of the Chioffi family, also noblemen, at the beginning of the 1700s. In 1841, the Chioffi family undertook massive renovation of the building, giving it its current appearance.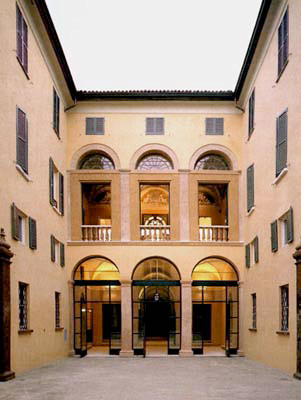 Courtyard

The renovation included addition of a monumental staircase leading from the courtyard to the piano nobile, and completion of the ceiling decorations which had been started during the previous century.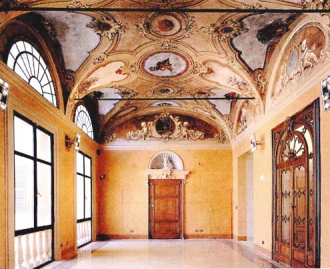 Painted ceilings on the piano nobile

The building would then go through a series of ownerships: the property passed first into the hands of the Reggio Emilia Savings Bank; in 1877 it was bought by the Ottavi Family, which sold it to Giuseppe Magnani, proprietor of Villa Gaida, in 1917. Magnani's son Luigi, refined scholar of art, collector, musicologist and writer, would be the last person to inhabit the noble residence.
The entire building, under a binding contract since 1962, was bought by the Province of Reggio Emilia in 1989. Restoration went underway immediately, and on 26 April 1997, the finished building was inaugurated.
Palazzo Magnani had already been used as the venue for prestigious exhibits and cultural events in 1984, when the Province held an exhibition there of "Antique Painting Masterpieces of the Magnani-Rocca Foundation".
Palazzo Magnani began its official exhibition activities with one of the most refined artists of the 20th century, Georges Braque, thus being reintroduced into both Reggian and national cultural circuit
---