Ludovico Ariosto Theater
Built between 1740 and 1741 from designs by Antonio Cugini, the theater was destroyed in 1851 by a fire. It was originally known as the "Citadel Theater" because it stood near the medieval defensive bulwark wanted by the Gonzagas (at the end of 1339) during their dominion of Reggio Emilia.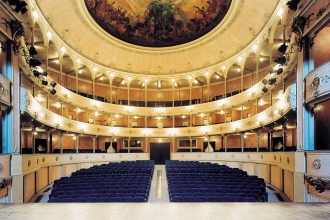 View from the house seats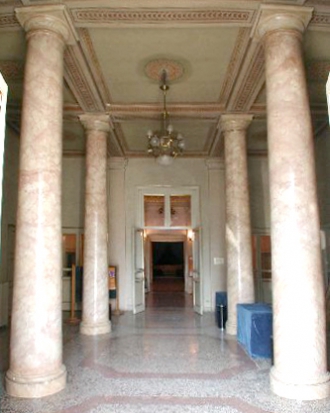 Theater lobby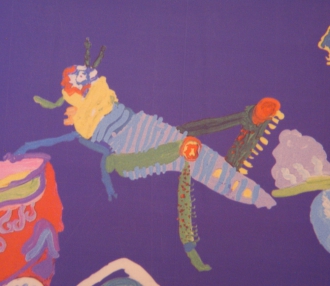 Detail of the curtain made by the children from City-run Pre-school Diana

Rebuilt in 1878, the theater kept its original appearance, and was dedicated to the great poet Ludovico Ariosto, born in Reggio Emilia in 1474.
Rebuilding of the theater in 1878 was carried out with the intention of rendering the theater suitable for prose performances as well as equestrian exhibitions. In accordance with London and Paris models, the theater was built with a cast iron structure; the cavea was semi-circular; the box seat structure was maintained for the second tier, while the first and third tiers were united into balconies. In 1927, an orchestra pit was added, and the structures required for the equestrian exhibitions were eliminated. At the same time, the Theater was completely redecorated by Anselmo Govi with frescos in a late Art Nouveau style. The frescos on the dome are particularly interesting as they depict episodes from Ludovico Ariosto's Orlando Enraged encircled by a band bearing verses from the poem.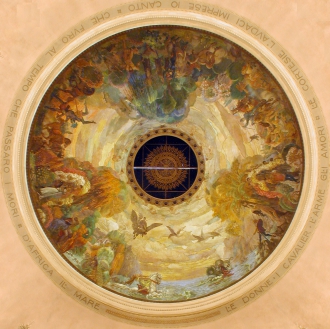 Anselmo Govi, Dome depicting episodes from Orlando Enraged, 1927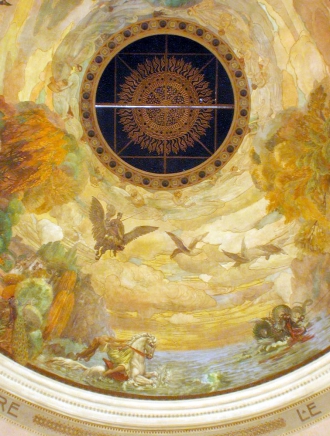 Anselmo Govi,episodes from Orlando Enraged, 1927, detail

In 1981, the Theater underwent restoration which included: cleaning, demolishing of precarious zones, reinforcement or redoing of the floors (first and foremost that of the stage) and the laying of new flooring.
Today, the theater hosts primarily prose performances.

---